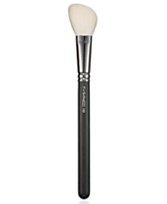 MAC 165: The Gift of Contouring
Part Three of MAC Brush Series
Let's face it: This is probably one of the best contouring brushes out there. But why?
Arrival and First Impressions:
When this brush first arrived in its little plastic sleeve, I was, quite frankly, excessively disappointed. The handle is long and thin and the brush in general is just small. The white bristles were dark and dirty after the first use and the overall appearance is just different than any other MAC brush. First impression: bad. Little did I know it was all about to change!!
Uses:
This brush is an EXCELLENT contour brush!! If you suck your cheeks in (yes, you look like a fool), you can fit this brush into the indent that appears. It's the perfect size. I use it with bronzers, deep blushes...anything that contours. It adds a very sculpted effect to my face. 
Cleanings:
This brush is a little different than my other MAC brushes because it has the classic white bristles. It gets FILTHY, especially since most contour products are dark. I clean it as often as possible, but it still manages to have a brownish hue on the tips. At some point, MAC had a very similar contour brush with greyish hairs. This would've been a lot better. 
Technique:
As mentioned above, if you suck your cheeks in, this brush fits right into the indent. Pull this brush up below the cheekbone (toward your hairline), then you can do a little blending to smooth rough edges. Viola! Sculpted face. 
Brush Shape:
This brush is an angled contour brush. It is cut diagonally and is fluffy and soft, yet dense enough to grab up just the right amount of product. This is a model brush for contouring. 
Conclusion:
Although at first this brush seems wimpy, I find myself grabbing for it almost everything. It's thin and lanky, but it really gets the job done. Perfect contour :)